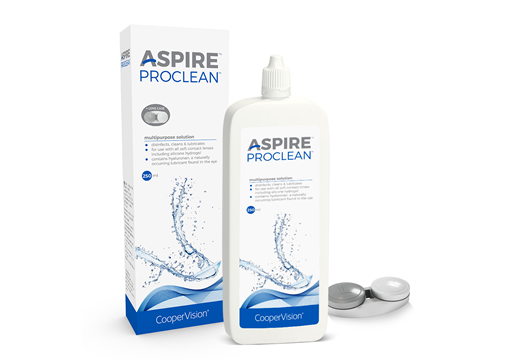 Looking for a smart contact lens solution that not only cleans and disinfects but also contributes to wearing comfort? Aspire™ Proclean™ is a great choice.
Aspire™ Proclean™ is a multipurpose disinfection solution that contains Hyaluronan - a naturally occurring lubricant found in the eye that prevents your contact lens from drying and maintaining tears - so you can enjoy naturally comfortable vision.
Aspire™ Proclean™ delivers powerful disinfection while being gentle on the eye. This solution effectively disinfects your lenses, removing bacteria and fungi from their surface. The disinfection properties of Aspire™ Proclean™ multipurpose fluid exceed the requirements of ISO primary criteria for log reduction of both bacteria and fungi, reducing bacteria by 99.9%*.
It is designed to mimic the pH of tears, making it a very comfortable solution. Aspire™ Proclean™ also ensures effective protein and lipid removal from all soft lens types, including silicone hydrogels.
Aspire™ Proclean™ is not only a winning combination with the Aspire™ range of reusable contact lenses (that has proven performance**), but a solution that is compatible with other soft contact lenses available in the market.
Don't settle for just any lens care solution. Demand the highly effective yet gentle Aspire™ Proclean™!
*Based on ISO 14729 testing after a minimum 4 hour soak time.
**CVI data on file.