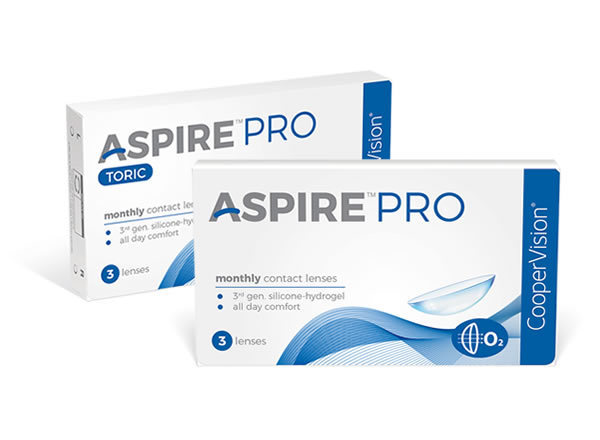 Monthly replacement schedule

High oxygen transmissibility

Lenses stay moist and comfortable

Latest generation of soft and flexible silicone hydrogel lenses for high performance
Do you see yourself among the leaders, visionaries, game-changers, health-conscious fitness lovers, and go-getters? If so, Aspire™ PRO silicone hydrogel contact lenses are an excellent choice.
Aspire™ PRO is a premium range of monthly disposable contact lenses from CooperVision recommended by specialists for the correction of myopia, hyperopia, and astigmatism. This high-quality product is dedicated to the most discerning users who value quality, eye health, comfort, clear vision, and freedom of operation.
Aspire™ PRO is the latest generation silicone hydrogel contact lenses designed for exceptional comfort. Throughout the time of use, the lens' superb breathability combined with higher moisture content helps you to maintain comfort, eye health, and clear vision all day long.
Aspire™ PRO lenses are characterized by high levels of oxygen permeability. This allows a constant supply of oxygen to the cornea so that the white part of your eyes remains clear even at the end of a long day.
Aspire™ PRO lenses will keep your eyes comfortable and healthy from morning coffee to late-night deadlines, and you will be able to enjoy excellent vision, white, and clear eyes. Aspire™ PRO toric lenses ensure excellent rotational recovery, stability, and comfort with each blink for an uncompromised and optimized toric lens-wearing experience.
Don't settle for average contact lenses. Demand the comfort of Aspire™ PRO lenses!